Bleumarin Restaurant is another website for restaurant project developed by the CMEVO Digital team that we are proud of and delighted with the end result. It is very important for a business to be present in the virtual environment in order to reach customers that it was not possible to reach before. A website is like a business card that you display in an online environment and it is as essential as it gets these days. Here is why it is necessary to have a website and what are the main advantages that your online presence brings.
Accessibility: A website makes restaurant information accessible 24 hours a day, 7 days a week. Potential customers can find out hours of operation, menu, prices and other important information even outside of the restaurant's regular business hours.
Marketing: A website can be a powerful marketing tool. Potential customers can find the restaurant on search engines, see pictures of the food and decor, and read reviews from other customers.
Reservations: A website can be used to accept online reservations, which can make the reservation process easier and more efficient for customers and restaurant staff.
Online Orders: A website can be used to accept online orders for delivery or pickup. This feature can attract new customers and give existing customers an easier way to order food from the restaurant.
Branding: A well-designed website can help grow your restaurant's brand. Website design and content can create a strong impression on customers and help create a strong and consistent brand identity.
A website can be a valuable tool for any restaurant, helping to increase visibility, create a strong brand identity, and provide an easy way for customers to access information and interact with the restaurant.
About Bleumarin Restaurant
The Bleumarin business is one divided into three services that they offer with great love and are passionate about what they do. They own a restaurant that provides us with fresh, delicious dishes cooked with love, a hotel where we can relax every time we visit them and two event halls, one larger with a capacity of 350 people and another with a smaller capacity suitable for intimate events of a maximum of 150 people.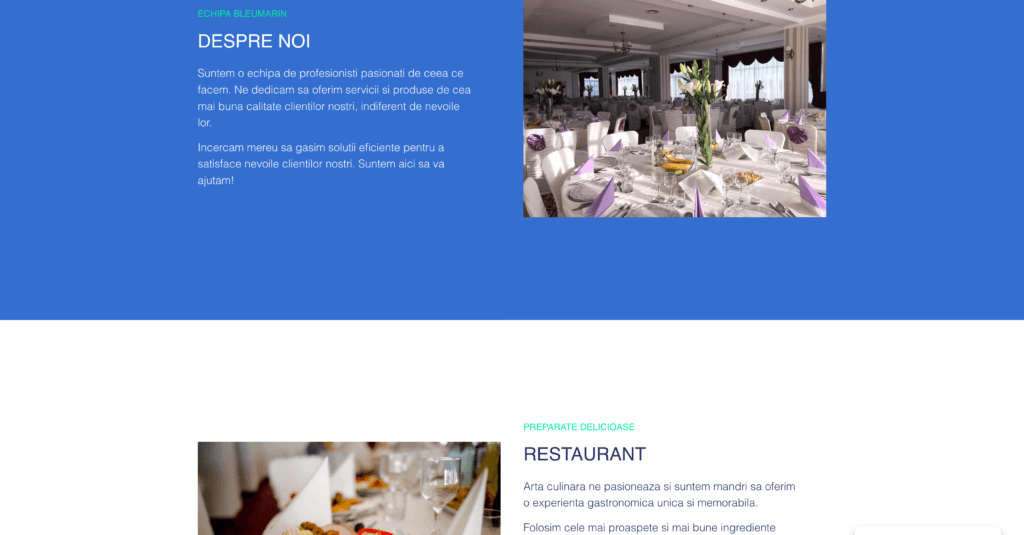 Structure website for restaurant
The Bleumarin Restaurant website is made with a responsive, simple, clean design and is easy to navigate through for the average user. The structure of this website for the restaurant consists of five pages: homepage, hotel, restaurant, event hall and contact, pages that are visible in the header menu, and in the footer menu there is some information about the business, contact details and the contact pages. terms and conditions, privacy policy and cookie policy.
Home
The first section on this website for restaurant contains a picture of the Bleumarin Restaurant location, their name, some details about them and a button to easily contact them. Next is the section with the services they offer, briefly presented, supplemented by some details about each.
The next section is the "about us" section that helps the user learn more about the Bleumarin team, along with an image from their location. The following sections briefly present the services offered: restaurant, hotel and event hall.
The last two sections are completed by the Bleumarin customer feedback section to provide credibility and transparency to new customers who want to read an honest opinion. As the last part of the homepage, we created a section where the user can get in touch with the Bleumarin team by clicking on the contact button in case they have more questions.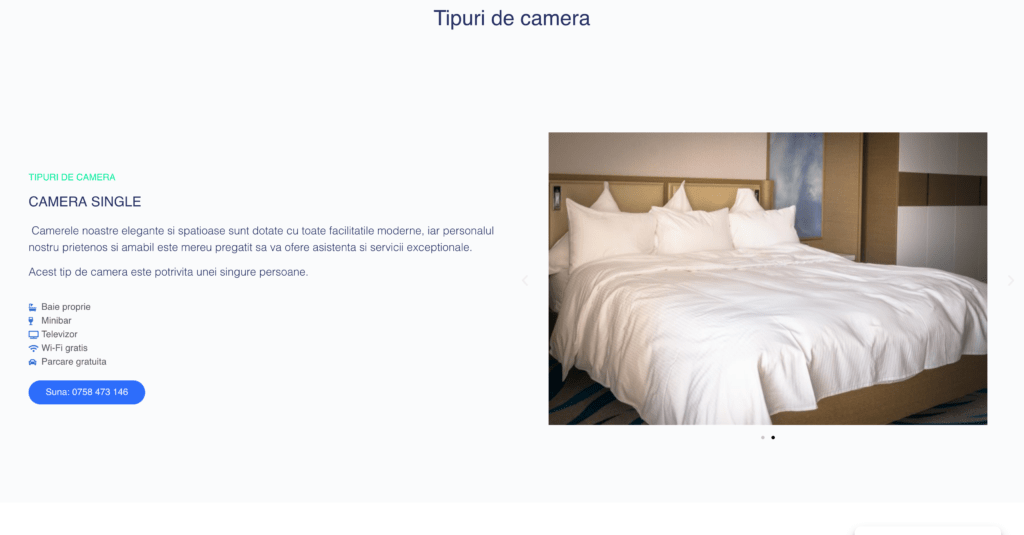 Hotel
The page dedicated to the hotel starts with a section with a representative image and some details about this service, followed by the section with the facilities that the Bleumarin Hotel team offers to its customers.
All the room types they have are presented below, along with carousel images and details about each room.
Just like on the homepage, at the bottom of the page is the section where a potential client can help to contact them faster.
Restaurant
On all service pages the first section has the same structure to keep a simple and clean design. The next section comes with some information about the restaurant and the team that handles this service.
The following sections present details of the restaurant's dishes and menus and representative images from the location to give customers a clearer view of what Bleumarin Restaurant has to offer.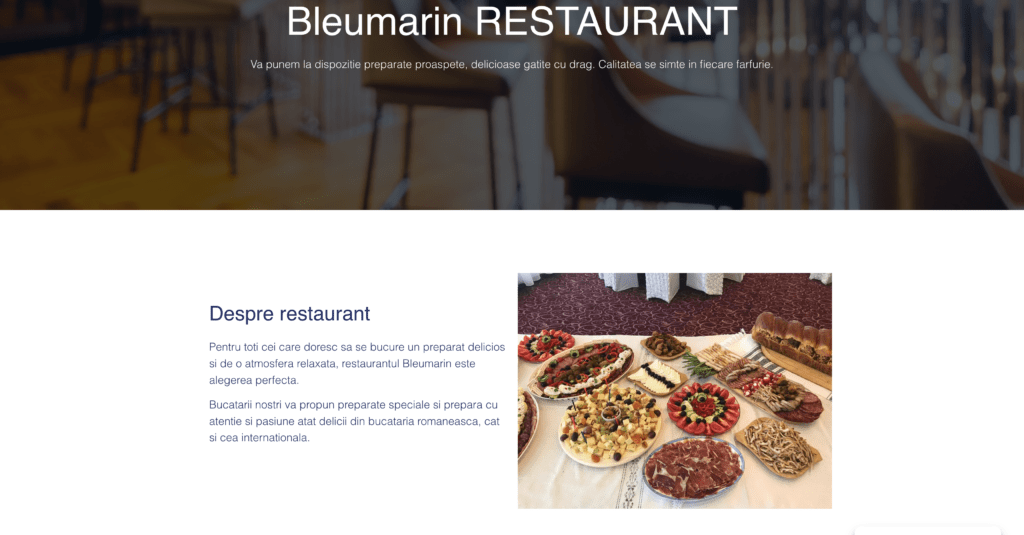 Event Hall
The page for the event room starts the same as the ones above and is continued by the facilities offered by the Bleumarin team to customers who want to collaborate with them in making a dream event.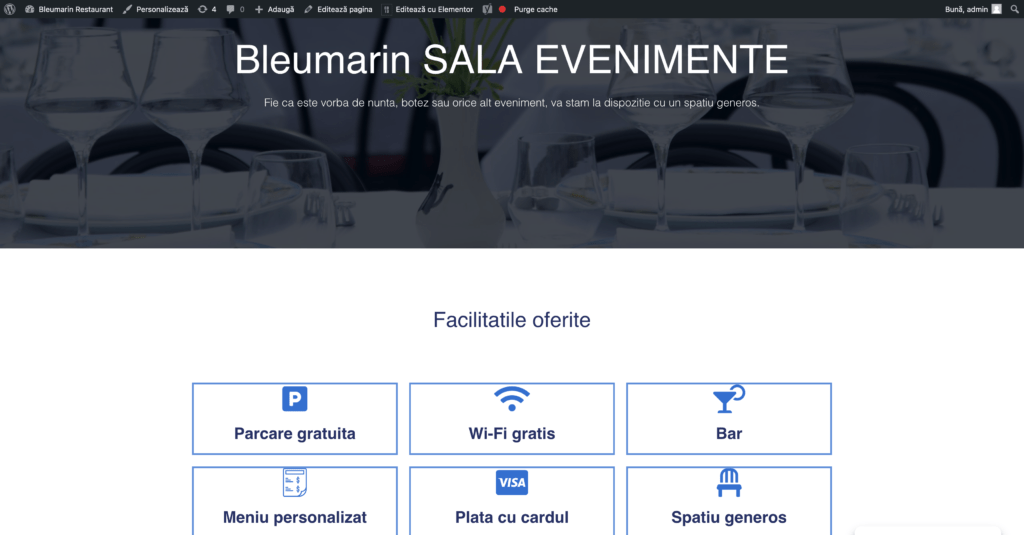 The following sections present information about the two rooms at the disposal of the Bleumarin team along with carousel images of the location they are proud of.
The last sections tell about the capacity of the space and the menu that can be made for client events.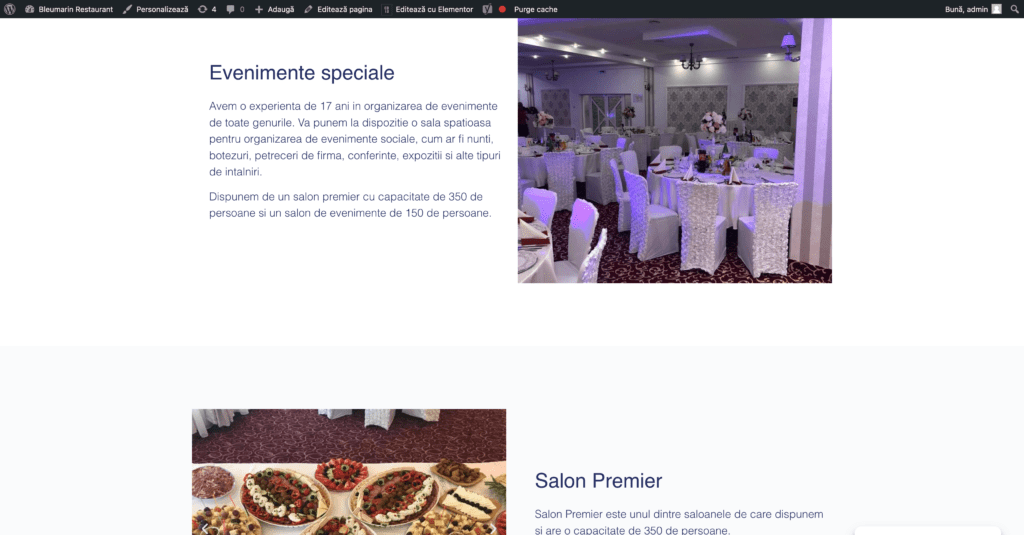 Contact
The last page of this restaurant website makes it easy for users to get in touch with the Bleumarin team to provide them with the information they need. This page presents contact details: phone, email, location, phone number and an easy to use contact form. As the last section we chose to put a map with the exact location of the business.
This website for the restaurant is in both Romanian and English. There are several reasons why a website should be available in two languages:
Accessibility: A restaurant website available in two languages can be accessed by a wider audience. This can help attract customers who don't speak the main language used on the site.
Connect: A website available in two languages can help connect with customers and users from different countries or geographies. This can help build a larger and more diverse community around the site.
Marketing: A bilingual website can be a powerful marketing tool. This can help attract and retain customers in a global environment by providing them with a personalized experience.
Respect for cultural diversity: By offering the website in two languages, the company shows that it respects the cultural and linguistic diversity of its audience. This can help build a positive image of the company and create a stronger and more engaged relationship with customers.
In conclusion, creating a bilingual restaurant website can help attract and retain customers, build a larger and more diverse community, respect cultural diversity, and improve your company's marketing strategies.