Silvmar Engineering is website engineering services, another project developed by the CMEVO Digital team that we are proud of. We are glad that we could help a business expose its image in the online environment. Having a website is essential in today's digital world. It allows you to reach customers in a way that was not possible before. Here are some of the main reasons why having a website is so important:
1. Reach a wider audience: With a website you can reach a much wider audience than you can with traditional methods. You can reach people who are not in your local area. You can also reach people who are not familiar with your products or services.
2. Establish credibility: Having a website shows potential customers that you are trustworthy. It gives you the opportunity to present your products and services in a professional way.
3. Increased Visibility: A website gives customers an additional opportunity to find you. With SEO and the right content, you can increase your visibility and reach more customers.
4. Create a connection with customers: With a website you can create a more personal connection with customers. You can communicate with them, answer their questions and show them how you can help them.
5. Generate leads: Having a website can help you generate leads and sales. You can also use it to increase your brand awareness and build relationships with potential customers.
A website is an invaluable tool for businesses and organizations of all sizes.
About Silvmar Engineering
The company develops complete engineering and 3D printing products and services dedicated to making new products or improving existing products. Silvmar Engineering offers a wide range of services including industrial automation, process engineering, product development and engineering consulting.
Industrial automation services include the design and development of automated systems, process optimization, and the integration of automated systems into existing systems. The company also provides process engineering services such as process modeling, simulation and optimization.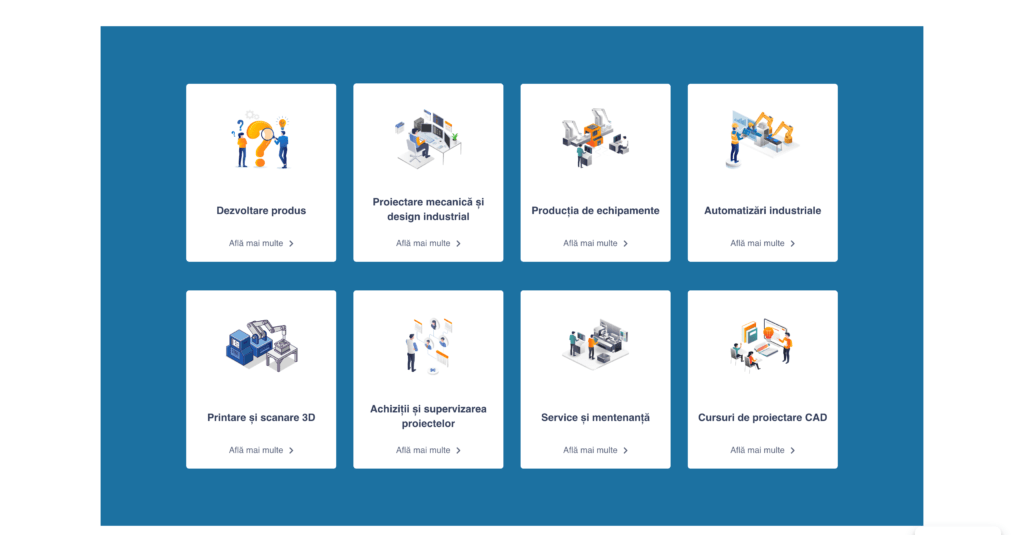 Website engineering services structure
This website engineering services is responsive design, simple, clean and easy to navigate from the user's perspective. Its structure consists of four pages: homepage, about us, services and contact, pages that are visible both in the menu in the header and in the footer.
Homepage
The first section on this website engineering services contains a few words about Silvmar Engineering's business and a representative image with the company's theme. The following section highlights the services offered along with a suitable image and a button that leads to the page dedicated to the services, so the user can immediately reach a service about which they want to know more information.
The following sections highlight the qualities of the business and how it goes about its business to provide more trust and transparency to future clients. These sections are supplemented with images and icons appropriate to the texts.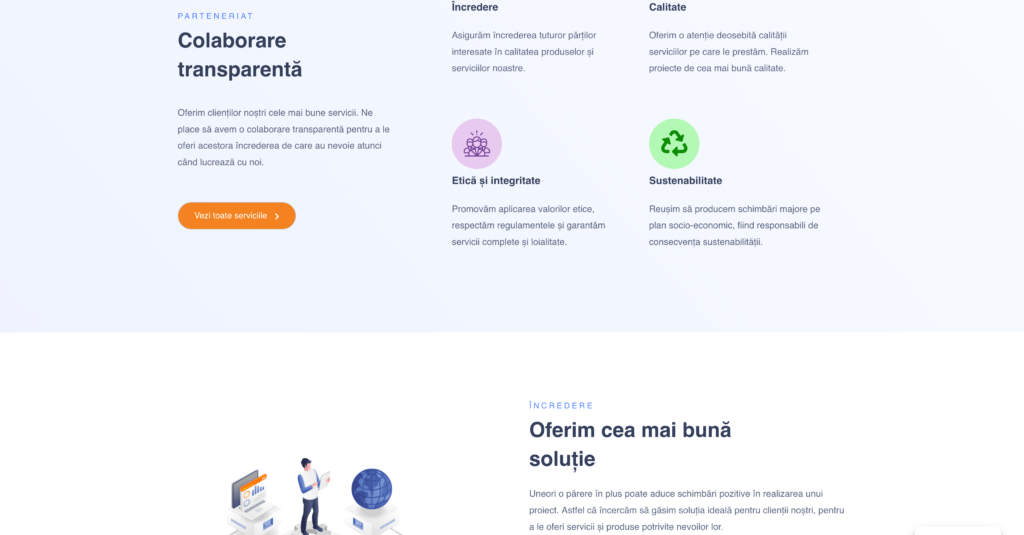 How could you prove your credibility and transparency to potential clients who don't know you? Simple: giving them "evidence" that shows what you're saying is true. It is the feedback section that conveys credibility.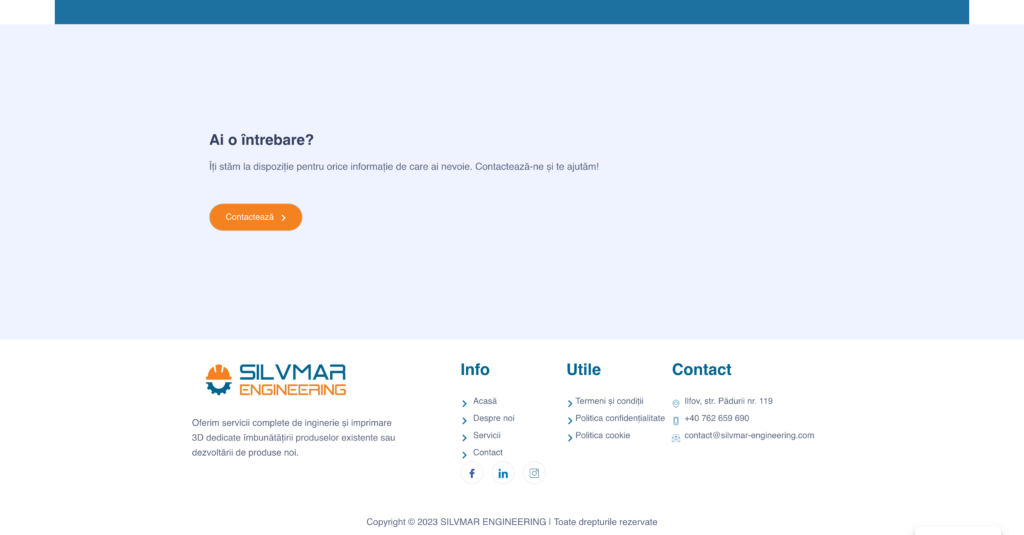 The last two sections on this page are represented by an image showing that Silvmar Engineering offers relevant services and products in the context of Industry 4.0 and a section takes you directly to the contact page in case someone has a few more questions.
About us
The first section of the page of a website engineering services provides information about the Silvmar Engineering team, who they are and what they offer. This section is continued by the services offered, customer feedback and the section that takes you to contact if you want more details.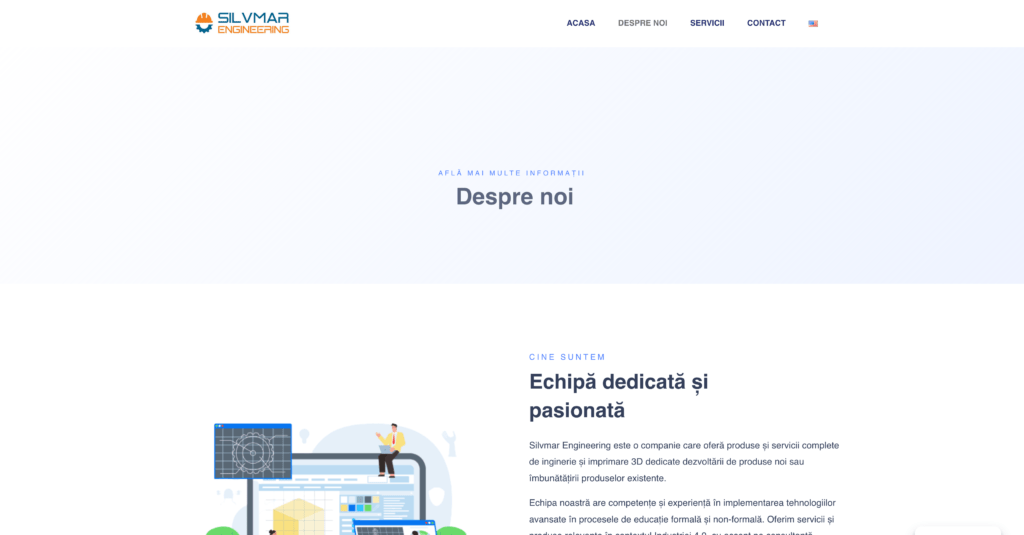 Services
This page provides information about all services, each divided into its own section, with all the details and representative images that potential customers would need.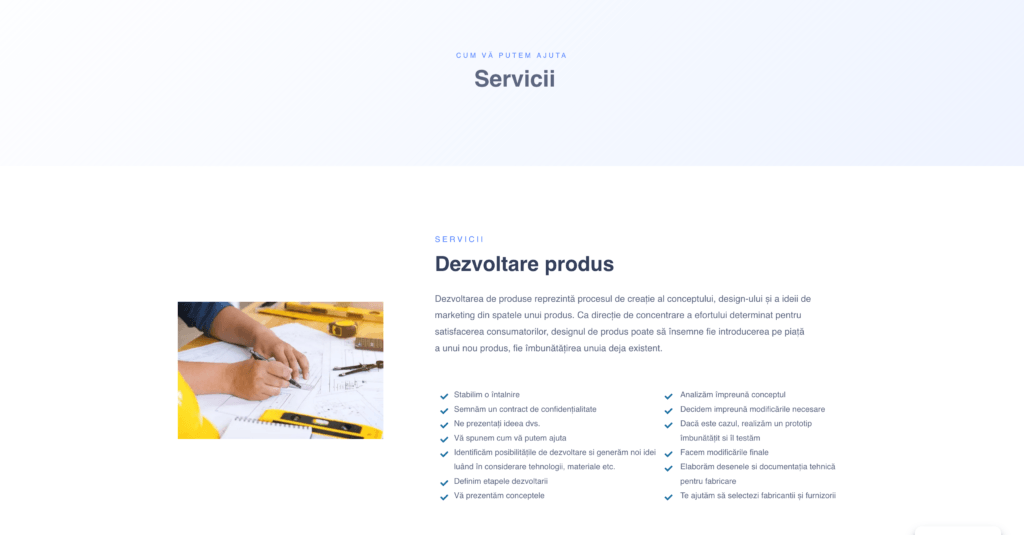 Contact
The contact page provides a contact form through which anyone can request additional information by sending a message. Next to it are the contact details (address, phone, e-mail) that interested customers could use.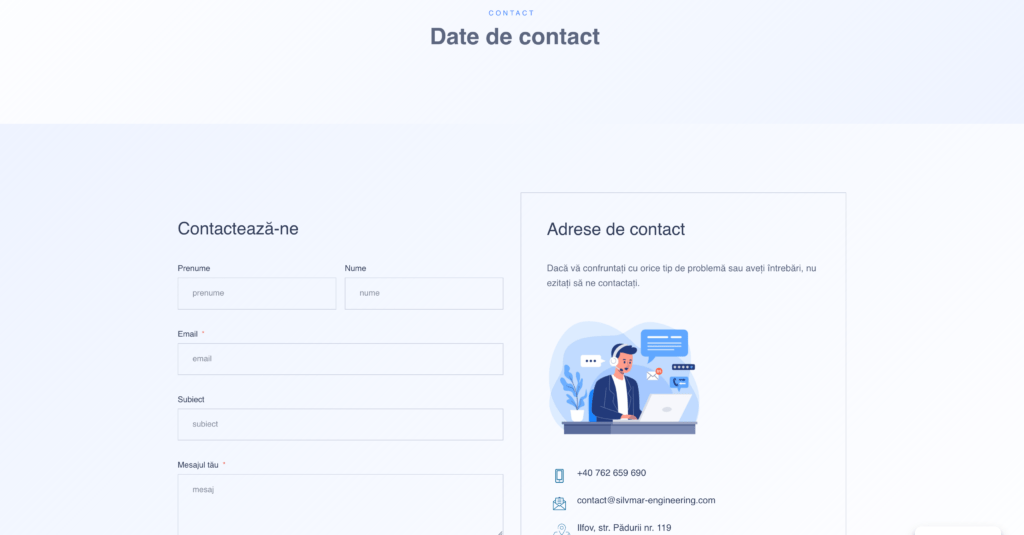 This website is in both Romanian and English. Today, having a website available in as many languages ​​as possible is more important than ever. Companies are looking for ways to reach more customers and expand their reach.
For example, if a company offered services in both Romanian and English, it could reach two large markets without having to invest in two separate websites. This can save companies a lot of time, money and effort. People are more likely to trust and do business with a website that offers services in their native language. This can help a business stand out from its competitors and create a more personal connection with its customers.